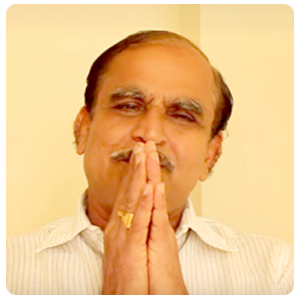 Name: Dr. N. Gopalakrishnan
Date of Birth: 20th November, 1955
Qualification with Specialization:
1. M. Sc. (Pharmaceutical Chemistry) – 1978
2. M. Sc. (Appl. Chem- Plant products)-1979
3. M. A. (Industrial Sociology) -1984
4. Ph. D. ( Plant Biochemistry) -1984
5. D.Litt. ( Doctor of Literature in Science in Sanskrit ) -2002
(First Indian Scientist to receive D.Litt)
6. M.B.A ( from IBS in 2014)
7. Degree Diploma in Journalism and public relations -1986
Professional Experience:
Lecturer in College 1979 – 1980 (one year)
Research fellow in CSIR : Indian Institute of Chemical Technology Hyderabad ( 3 Yearss
Scientist : From 1982 for 25 years (In Regional Research Laboratory Trivandrum, CSIR Government of India)
Visiting scientist for one year in University of Alberta, Canada (1993 -94)
Visiting Scientist for one year In Rashtreeya (National) Sanskrit Vidyaapeet, Tirupati. (2003 Jan – Dec.)
Science Journalism/ Journalist in 'The Hindu' , National News paper in Chennai
Senior Scientist Regional Research Laboratory), CSIR, Trivandrum upto 31st March,2008
Director, Indian Institute of Scientific Heritage ( IISH-Regd. Charitable Trust)
Visiting faculty member in Universities and Institutes.
Other Professional Contributions:
Fifty S & T Research Papers in National and International Scientific Journals on the following Subject area of the publications
Cyclopropenoid fatty acids in edible plat products.
Oils and fat biochemistry.
Lipid biochemistry and technology.
Essential oils chemistry.
Liquid and supercritical carbon dioxide extraction of aromatic and perfumery compounds.
Ayurvedic products standardizations.
Pesticide residues in agro products and estimation of quality.
Six Patents in Science & Technology
Patents are in the technological subject of Liquid and super critical carbon dioxide extraction of perfumes and flavors & Microwave processing of fatty materials and enzyme inactivation in fruits.
National Level Awards from the S & T Scientific Societies.
1.  Gardner's Award for the best research work in oil chemistry
2.  D.V Memorial Award for the basic chemistry work in cylcopropenoid fatty acids
3.  Dingra memorial Gold medal and Award for R & D in essential oil chemistry
4.  D. V. Memorial Award ( 2nd time) for the best research work in oil processing.
5.  Foundation Day Lecture of the Vaidyaratnam Oushada Saala, Trissur
More than 250 popular articles in Science and Culture, Vedic management, Vedic Agriculture, Scientific and Technological heritage of India, Vegetarian food, Science of living, Gita and Management, Customs and Rituals, Scientific spirituality, Values and value based education, Values for parents, Integrated management.
National and International Fellowship
First NCSTC Fellowship of DST, Government of India for popularizing science.
NSERC/ Canadian Development Agency (CIDA) Fellowship of the Government of Canada for R & D activities in University of Alberta Canada and University of Michigan USA.
National Sanksrit University Fellow of UGC, Tirupathy, AP.
Invited Lectures in National and International Universities in India and Abroad.
University of Manitoba, Canada.
Technical University of Nova Scotia Canada.
University of Cleveland, USA.
University of Alberta, Canada.
Iowa State University USA.
University of Newcastle (UK).
York University Toronto , Canada.
University of British Columbia (Canada).
Lamar University Houston USA.
Maharshi Mahesh Yogi's University (Fairfield – USA).
M.G. University (Dubai Center) on the Scientific and technological heritage, Indian Approach to Management and various subjects related to culture.
Lectures in National Institutes in India.
IIT of Bombay, IIT Madras, IIT Gouwhati.
University of Hyderabad.
University of Osmania.
University of Madras.
University of Kozhikkode.
University of Kerala.
University of Pune.
Kerala Agricultural University ( Vellayani & Vellanikkara Campus)
Spices Board (Govt of India)
Amrutha Viswa Vidyapeetam.
Rashtriya Viswa Vidyapeetam.
BITS Pilani.
L P S C (ISRO) Trivandrum.
IICT (CSIR-Hyderabad)
NIN (ICMR –Hydrabad)
LIC Motivational lectures (Govt of India,)
Institute of Management In Government (IMG) Trivandrum)
Amrutha Institute of Medical Science (AIMS)
Lectures in Multinational Company for Executives.
Visiting faculty member for the refresher courses and training programs in Institute of Management in Govt (IMG) and Universities, Canara Bank, LIC Officers, Crompton Greaves Bombay, Birmani groups & Co, Kimoha Dubai, Industrialists meets Middle east, Prasar Bharati ,Govt of India.
Counties visited for Delivering Lectures.
USA, Canada, U K, U A E, Bahrain, Kuwait & Oman for lectures series and visiting faculty.
Messages, Commentaries and Lectures in e – Media
Invited lectures in Radio and Television in USA, Canada and middle east. In India, the lectures were delivered on daily or weekly basis in Amrutha, TV, Surya, ACV, Asianet, Jeevan TV, etc and All India Radio
Television Programs (through National, International and Cable channels)
Hundreds of TV programs on customs and rituals, Indian spirituality, Indian literature, Science and technology in ancient India, life messages , Indian management concepts
Uploaded more than 6000 lectures in English, Malayalam and Hindi in You Tube and stands as the person who has uploaded highest number of speeches in Your tube, in the world.
Established series of Udayabharatham WhatsApp group and face book groups to popularize the Indian heritage having more than 25000 members.
 Lectures in Cassettes, CDs & VCDs
More than four hundreds MP 3 CDs and VCDs of lectures on various scientific an d cultural subjects have been recorded, edited and produced for spreading the message of Indian heritage
More than 6000 Public lectures, seminar lectures, classes, training programs in general, professional, technical, social institutes, colleges and organizations.
Projects undertaken on Indian Heritage Studies as project Director.
Projects sponsored by Indian Space Research Organization (Govt. of India) Scanning and preserving the Indian Scientific Heritage Books.
Project sponsored by Indian National Science Academy, ( Govt. of India) for Producing learning and teaching materials for academic institutes in English.
Project supported by Indian Council of Historical Research (Govt. of India) for Compiling the date on scientific and technological Indian knowledge.
BSNL ( Govt of India ) project for organizing a series of seminars for educating the people on Indian scientific heritage.
Ministry of Culture Project for popularization of the heritage knowledge adoptable for 21st century.
CSIR Project ( Council of Scientific and Industrial Research – Govt of India) for popularizing and unearthing ancient Indian knowledge for modern life.
Department of Science and Technology (STEC Govt of Kerala ) project for preparing learning materials for schools in Malayalam.
Variety of projects sponsored by private / industrial / individual level for learning teaching and spreading the heritage message adoptable for the 21sty century.
Coordinator for a dozen National Level Seminars.
Many National level seminars were organized at various centres in India and abroad
Building National Heritage Centre – An Institute of learning, teaching, and R & D activities for Indian heritage and modern subjects.
The most prestigious activity in my life is building the national heritage Center At Mazhuvanchery, Trissur in a sprawling land of 11 acres. *The institute has at present ( as on 1st January 2008) an excellent *modern library on all subjects,
Aryabhatta heritage and modern S & T library.
Bhasakara computer centre and BSS computer College.
IISH Preprimary Vocational Training College.
Bharatheeya Vidya Vihar (CBSE) school and Bharatheeya Sisu Vihar.
Bharaatheeya Vijnana Vihar tuition center, and Bharatheeya kalaa vihar for arts.
Heritage Museum and general infrastructure like canteen, guest house and auditorium and office facilities like vehicles.
Heritage Tailoring and embroidery center.
Centre for learning and teaching variety of traditional martial arts, games, cultural sports activities.
Dhruva parks and sports center.
IISH through NHC has given 800 certificates last years and 200 certificates this year, to who are learning, teaching, popularizing and spreading the true Indian heritage knowledge scientifically, rationally and logically.
Websites –  www.iish.org; www.dharmaradio.net
Udayabharatham whatsapp (1 to 60) groups, IISH Dr N Gopalakrishnan 1 to 15 groups.
The Indian Institute of Scientific Heritage is planning to build an institute having the status of a deemed university at the National Heritage Center campus, in Trissur for learning and teaching all about India.