Donation for building a great institute and also to spread the message throughout the world:
IISH is depending solely on your support and no Government aid is available for undertaking this mission. Whatever amount is received by IISH that is used for bringing out publications, building Bharatheeya Vidya Vihar school, Bharatheeya Sisu vihar baby care centre, Bharatheeya Kala vihar, a heritage museum, Aryabhatta Library and a spiritual study center, Mazhuvanchery Mahadeva Temple.
Your support, donation, guidance and blessings are required for fulfilling Our Mission of learning and teaching the heritage of our motherland. You can support through donation, or donating the books, sharing the fees of students, contributing to Sevanam samarpanam for old aged- students- blind- poor and sick.
You, your friends and relatives can also sponsor the programs of the institute in the national/ regional level or for the programs at National Heritage Center.
Donations given to Indian Institute of Scientific Heritage is exempted from income tax as per U/S 80G of income tax act of 1961.
Current Requirements:
Indian Institute of scientific heritage is building the National Heritage Center, in Mazhuvanchery, near Kechery, in Thrissur Guruvayoor road, in the land donated by Kottilil Marath family, Thrissur.
The National Heritage Centre will have all the tools developed by IISH and other organizations. There is also a spiritual research centre on the premises – Mazhuvanchery Siva Temple – your support is required for developing this centre.
IISH is procuring some more land for expansion to the status of a deemed university. We are commencing the construction of the building of 25 classrooms for the Bharatheeya Vidya Vihar. The BSS computer college here needs more space and also space is needed for IISH vocational training college other than Bhaskara computer centre and Aryabhata manuscript library.
We invite your support and blessings :
SPONSORSHIP REQUEST
Library books for the school used or unused on all subjects and language ( Total equal to Rs. 50,000)
Library Racks 10 sets ( each set Rs. 1700 Total Rs. 17,000)
Library computer – 1 (~ Rs. 15,000)
Library tables – 8 (Rs. 1500 each; Total Rs. 12,000)
Tube lights for the new building 50 ( Rs. 150 each; Total Rs. 7500 )
Fan 30 for the new class rooms ( Rs. 1200 each ; total Rs. 36,00)
Tailoring machines for stitching institute of iish 5 Nos ( Rs. 4000 each ; total Rs. 20,000)
Embroidery machine 5 Nos ( Rs. 7000 each ; total Rs. 35,000)
Musical instruments for Bharatheeya Sangeetha Vihar Rs. 1,00,000
Sports items for Bharatheeya Sisu vihar and vidya vihar ( Rs. 50,000)
Sponsorship for students Rs. 5000 ( including fees and books uniformly distributed to poor students- not in isolation )
Steel plates for canteen 100 Nos ( Rs. 55 per plate; Total ~ Rs. 5000)
Steel tumbler /glass 200 Nos ( Rs. 9 per glass; Total Rs. 1800)
Baby chair for LKG 150 (Rs. 100 per chair ; Total 15,000)
Disposable paper glass 10,000 (one box ~ Rs. 5,000)
(To be added for the next academic year for new admission)
Benches 40 Nos. ( Rs. 1100 each; Total Rs. 44,000)
Desks 40 (Rs. 1400 each; Total Rs. 56,000 )
A second hand Mahindra vehicle for students Rs. 2,50,000
Future MASTER PLAN FOR NATIONAL HERITAGE CENTRE
Preparation for the projects to be completed on 2020 Rs. 3,00,000
Acquiring adjacent two plots falling inside the total lay out of the National Heritage Centre boundary to full fill the needs of completing the landscape and define the boundary of the present land. (~ Per cent Rs. 10,000 Total for 125 cents ~ Rs. 12,50,000)
Any above items can be sponsored or directly donated which will be inscribed in the class rooms /items..
Account Details :
The support can be remitted through DD/ Cheque/ or directly to the State Bank of India, Kechery Branch, Thrissur.
IFS Code: SBIN0070030
Beneficiary INDIAN INSTITUTE OF SCIENTIFIC HERITAGE.
1) Publications & Membership
57020795171
2) Donations for other activities (with 80G)
57020803070
You Can also send Your Cheque or DD to:
Hon. Director,
Indian Institute of Scientific Heritage,
National Heritage Center, Mazhuvanchery, Eranellur, Trissur
Kerala, India.
Being a donor you will be considered a Donor Member and will enjoy all the facilities of a Patron member.
For any further Queries regarding Donation please feel free to Contact Us.
Ph: +91-471-2490149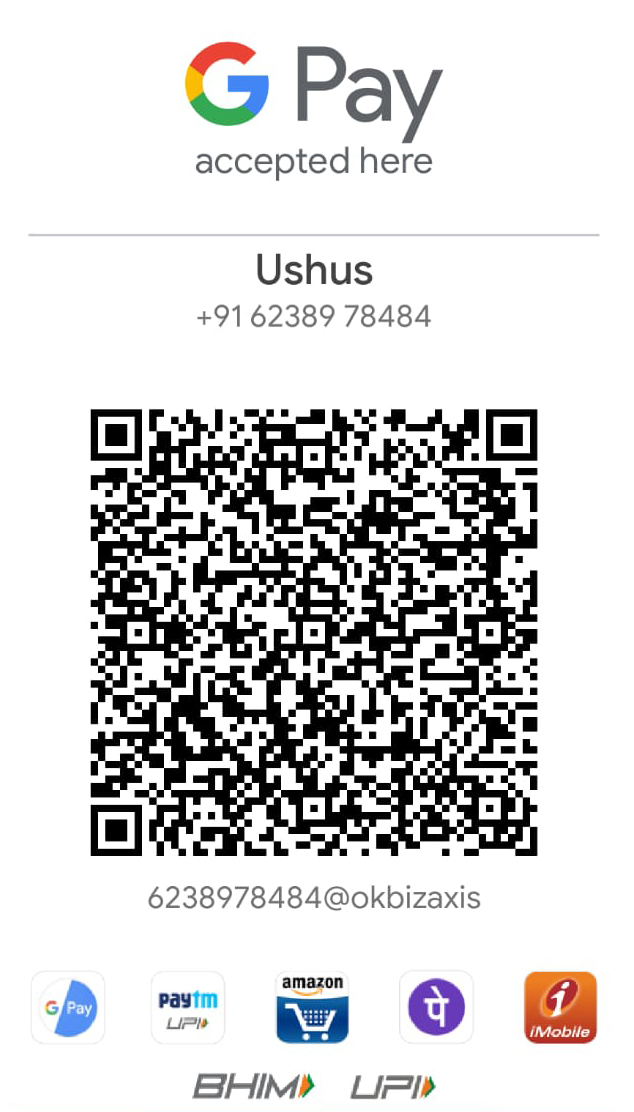 NB: Kindly note, the account name will be displayed as "USHUS"